Feature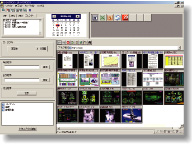 ZU-KAN-O is a contents database system for carrying out unitary management of various information and documents (contents) which are needed in all organizations, such as companies, schools, and government offices, transcending the difference in the data format. All data would be accumulated at the database in our original data format (XCDF) as well as the original data, and they are accessible at will from both LAN/WEB environment. Moreover, XCDF data can to be displayed, retrieved, edited, and printed out from a client PC without running the application with which the original data was made.
By handling all data with one system it is not necessary to study operation of every utility application, and the simple unified operation enables all data to be reused, shared, and exchanged very easily ZU-KAN-O is to be the newest software product which offers the functions and the effect for which today's IT is asked at most in these days for sharing of the information beyond the frame of an individual system and the informational exchange between organizations or companies which are the ultimate purposes of IT.

ZU-KAN-O Smashes Walls of Data Format
---
The greatest purpose of IT (information technology) is to extract useful information from information overflows in these days and to change their form for aimed usage.
However, there is a big barrier for informational collection, accumulation, and retrieval, as well as sharing and reuse in the organization. In present, there are already too many types of systems, applications and data formats existed or intermingled in an organization. If efficient sharing or reuse of these existing data groups is not achieved, the purpose of IT cannot be attained.
In order to smash such barrier mentioned above, we offer the XCDF (extensible Contents Data Format) technology which enables to display, search, edit and print the various formats and application data, including but not limited to, text (character), raster (picture), vector (line drawing), 3D, and multimedia ( animation and sound) .

DATA-Introductory Merit of ZU-KAN-O Enables Many Data in Various Formats to be Reused
---
The most daily work using personal computer, may be 80%, is so-called "reuse", such as looking for the data made at once, seeing it through, printing, and distributing. The work of making new data by using individual application does not fill no less than 20% of such daily work. However, at now, this is also performed using heavy (there are too many functions) individual application, and a user has to memorize different complicated operation for every data classification.
"ZU-KAN-O is the software with the innovative XCDF technology and enables "reuse" of existing data by itself without using individual applications with advanced printing quality equivalent to the original data, providing unified easy operation, and wonderful display response.

Introductory Merit of ZU-KAN-O
---
Only by registering the various data to be shared in the "ZU-KAN-O" database, it stops needing individual applications at each client aiming for reuse, and the purchase cost and the upgrade cost for them are cut down. Furthermore, the cost of educational training for operation of the complicated individual applications is become needless. Over all, under high responsibility and simple operation, information sharing and reuse will be enhanced, and the intellectual productivity of the organization will be improved sharply.

Solution
---
We offer the solution of the system employment based on this ZU-KAN-O.
Also, we accept customization request for the optimal environmental structure adapted to the business style.